Versione Italiana
Luciano Schiazza M.D.
Dermatologist
c/o InMedica - Centro Medico Polispecialistico
Largo XII Ottobre 62
cell 335.655.97.70 - office 010 5701818
www.lucianoschiazza.it
It is necessary to differentiate stings such as those of wasps, bees and hornets, provoked as an act of defense, and mosquitoes, horse flies, ticks, bedbugs, lice, caterpillars, that feed themselves on blood.
BEES, WASPS, HORNETS
These insects normally sting for self defense when disturbed.
.
Honey Bees (Apis mellifera)
They live where there are flowers to pollinate: vegetable and flower gardens. The characteristic that differ bees from wasps and hornets is the stinger. In fact, when the stinger is in the skin it can't be taken off. Being the stinger linked to the last tract of the intestine, the bee will die a couple of days after stinging.
Bees sting when provoked and this usually occurs a few meters from the beehive. (Reference is made to Italian bees)
The bees poison is described as liquid, watery, it has a bitter taste and a smell similar to the one of ripe bananas.
Wasps (Germanic wasp – common wasp, paper wasp)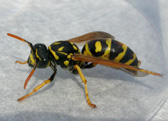 They are easy to spot because of the black and yellow stripes, they can be found everywhere, as they build up in large populations and scavenge for human food (carbonated beverages, cider, juices, ripe fruits and vegetables, candy, ice cream, fish, ham, burgers, etc.
Wasps have a lance-like stinger without barbs and can sting repeatedlywhereas honey bees have a barbed stinger and sting only once.
It is dangerous when they sting your mouth: be careful when you drink carbonated beverages, especially if left unattended outdoor. A wasp may have entered the can.
If a wasp enters in your car do not panic: move slowly and get the insect out.
Hornets (Vespa Cabro)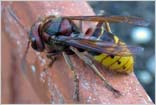 The biggest of the group (their length can reach 35 mm). They love flowers and sting for self defense or to protect the nest. They live preferably under the roofs and in the cavity of trees, (if you travel to Italy mind the cavities in olive trees) in the ground or walls or in bird's nests. They eat juicy fruits such as peaches, apricots and plums. The stinger is 3-4 mm long. It isn't barbed as the one of honey bees, so they can sting repeatedly.
It is recommended to seek professional help to destroy nests.
The most common consequence of the sting is redness and edema. The red area has a white spot in the center. However painful and itchy, it  is not life threatening.
In fact, to be at life risk a adult human should be stung simultaneously one hundred times and a child 50.
Severe can be the allergic reaction, that may affect hyper-sensitive subjects. In this case a single sting might trigger a deadly anaphylactic reaction.
It may  manifest 10-20 min after being stung with itching, swollen face, eye lids tongue  and larynx. These symptoms may severely evolve in chest constriction, urticaria and excessive swelling.
While we can expect to be stung by wasps, which have their nests in well know places, we may unexpectedly encounter a hornet, for its nest may be either on the ground, or on trees.
First aid
Immediately remove the sting (within 20 seconds from being stung). A wasp bite can be easily spotted from a black dot in the centre of the red spot. Attached to the black spot there is a microscopic whitish vesicle containing poison. Remove the sting with a tweezers available, or with a fingernail : the movement must be quick and precise.

Wash the affected area with water and soap to avoid secondary infection.

Apply an ice cube wrapped with a piece of cloth or cold water.

Do not use ammonia.

Do not try to remove the sting squeezing the skin around the affected spot.
To reduce swell and inflammation a cortisone cream might be applied.
In the case of multiple stings and severe itch, systemic treatment with antistamine may be prescribed.
The risk of death by asphyxiation is high in the case of stings to the tongue or larynx, due to mucosal swelling. It's fundamental to immediately seek medical treatment. Sucking ice cubes or drinking very cold beverages slow the swelling process.
Only the poison of 100 bites can be deadly.
However, if in the case of a single sting you experience :
Extensive swelling

speech difficulty

persistent cough

chest and throat constriction

nausea

vomit

circulatory collapse (net lowering of blood pressure)
BE CAREFUL !!
In this case you are having an anaphylactic reaction and you should immediately seek medical treatment.
Hypersensitive subjects should always carry a kit containing adrenaline or cortisone.
Home remedies:
Cut a garlic clove and rub half of it on the affected area

A table spoon of sodium bicarbonate in a liter of water will be used to soak the affected area.

Apply a few slices of fresh onion on the affected area
Prevention:
Avoid to wear bright colors (they are attracted to orange and yellow). Better to wear white clothes.

Avoid perfumes, after shave, hair spry, for their smell can attract insects as flowers.

Use insect repellents (above 3 years of age)

Wear long sleeves and long trousers.

Do not dispose in the open food and beverage leftovers.

Do not stand near to sweet beverages or food

Particular attention must be taken while having picnics.

Pay attention while in fruit groves and vine yards.

Pay attention while in clover fields

Do not walk bare foot in fields and lawns.

Seek for professional help to remove nests nearby homes and work places.

If attacked by a swarm of bees or wasps seek refuge in a close place, a bush. If no refuge is available, cover body and face and lay down.
MOSQUITOS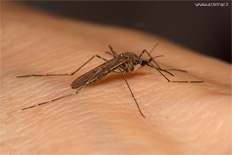 We know very well these annoying insects that disturb our summer evenings (Culex pipiens), that feed on human and pets' blood. It colonizes stagnant water and stings at sunset.

How to avoid stings
It's important to wear adequate clothing:
light colors (better white)

long sleeves

long trousers
It is important to :
avoid activities where mosquitos are plentiful. Infants below 6 months should be kept indoor at sunset

put mosquito nets on prams, strollers and children beds

children should avoid to sweat (the smell of sweat attracts mosquitos)

children nappies should be changed often

avoid to wear perfume, hair spry, deodorant
You may use natural repellents such as citronella (never in the sun because it is photosensitive) or geranium. Chemical repellents should not exceed 10% DEET)  should be sprayed on clothing and not on the skin.
In the case of the Asian tiger mosquito (aedes albopictus) in Italy since 1990 (probably arrived on cargo ships containing disposed tyres). It is smaller than common mosquito, black and white striped legs and small, black and white body.
Tiger mosquito breeds in small quantities of stagnant water in places such as:
manholes

plant and flower pots

flower beds

disposed tyres

disposed containers (buckets, pots, cans, jars)

cavity trees

fountains

tubs
Eggs are laid on the surface of stagnant water and hatch in spring-summer. They are very resistant : in fact, eggs laid at the end of summer resist throughout the winter.
The adult female lives in areas with low vegetation. It stings at leg height.
In Italy they are not dangerous, (while in Asia they  are vectors of dengue, yellow fever and several kinds of encephalitis), but their bite gives itch and local reaction. It normally bites in the morning and at sun down  (the coolest hours of the day), while common mosquitos bite at sundown and during the night.
What environmental measures should be adopted ?
plant pot saucers: dispose the excessive water in the soil (not manholes)

buckets and containers must be emptied in the soil.

from April to October apply insecticide into the manholes

gutters must be emptied regularly

cover water containers with plastic sheets or mosquito nets

use goldfish in the container ponds. They feed on larva.

avoid collection of water in small containers and tyres.
Nei cimiteri:
svuotare ogni settimana nel terreno (non nei tombini) i sottovasi,

riempire di sabbia, fino all'orlo, i vasi contenenti fiori finti.
Mosquito bites can be treated with cortisone creams, to used under medical supervision.
TICKS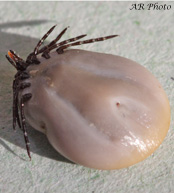 Ticks are acari that mainly develop in hot-humid climate. Ticks sting and attach to the skin, (thanks to the hypostome) to suck our blood. This may occur in every season, but they are more active during the summer. Children on camp holidays in the country side are more at risk.
It has to be considered that : 
to provoke serious damage a tick should be attached to your skin for 36-48 hours.
Tick sting doesn't always mean infection or sickness.
Among the transmissible illness there is rickettsiosis (Mediterranean spotted fever) and Lyme borreliosis
This last takes days to weeks (3 to 30 days after tick bite) to develop the classic sign of at the site of the tick bite: erythema migrans (also called erythema chronicum migrans). It's a circular erythema that progressivaly enlarges with a outer edge red and a clear inner area.
Parents have to daily check for 30-40 days  the area where the tick was attached. If erythema appears, immediately consult a physician, who will prescribe antibiotics for 3-4 weeks.
In the case that the child, for any other reason during the observation period needs antibiotic treatment, parents should  inform the doctor about the tick sting, so that he can prescribe antibiotics effective on Lyme borreliosis as well.
If not treated, it may lead to more serious problems that may include the skin, joints, nervous system and heart. Symptoms can last for weeks or, if untreated, for years.
The most dangerous is the wood tick that lives in the hill woods. It is very small, 2-8 mm, dark color, difficult to spot.
In what kind of environment the risk to be stung ?
Hill woods

Humid and shady areas

Bushes and low vegetation, non cultivated fields, trails

In Spring-Autumn
However, if the climate is mild and warm, they breed all the year around. Since tick do no fly, or jump, they wait for their host at the extremity of plants. They  are attracted to body heat of animals and humans.
Ticks inject anesthetic when they bite, so you don't feel them biting.
How to avoid to be bitten in areas which might be infested with ticks.:
Use adequate repellents (apply on clothing every 3-4 hours. Permetrine based repellents may be applied on the skin, prior to medical approval).

Wear light colored clothing, so that tick can be easily spotted.

Long sleeves.

Long trousers tucked into the socks.

Keep long hair tied back.

Walk in the center of paths

Avoid overhanging vegetation at the edge of paths where ticks may be waiting.
While in tick's infested areas:
Check clothing and exposed skin every 3-4 hours
Back home:
Brush cloting prior to enter the house

Wash your clothes at high temperature

Check skin, scalp hair. Don't forget to check under the arms, in and around the  hears, inside the belly button, back of the knees, between the legs and around the waist.
To remove a tick :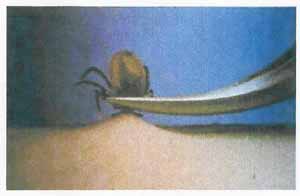 Wear gloves, or protect your hands with a tissue and wear eye glassess to avoid  contact with tick body fluid.

Use twizzers to grasp the tick as close to the skin as possible. Slowly and gently pull the tick up from the skin until it releases its grip. Avoid twisting or jerking to prevent breaking off the head or mouth. Do not crush or squeeze the tick. It may inject infectious material.
Avoid folks remedies such as:
Oil, or vaseline..

Don't use lighters, needles, etc.

Do not use your fingers, it may be contagious. It must be burnt after exctraction.

Consult your physician as soon as possible to get  adequate follow up for at least 30-40 days after  being stung. If you develop fever and/or  enlarging inflammation in the stung area, your doctor will prescribe the adequate therapy.  Antibiotics are not recommended during the observation period. In the case of absolute need, medicines against rickettsiosis and borreliosis will be prescribed.
Environmental prevention in residential areas:
Remove leaves and clearing brush and tall grass. Do not keep wood chips nearby the house,

Clear trees

Keep lawns and trails clean
HORSE FLY
You find may in hot, sunny and non windy days. The female sucks from 20 to 200 micrograms of blood. The sting provokes a itchy papule. Topic treatment with cortisone cream is recommended.
BED BUGS
Bed bugs are small flat insects of the family Cimicidae. They are attracted to beds or dirty mattresses. You can recognise them from the smell or their escrements in the bed.
They are attracted to a temperature around 35° C. This is why man is its favourite victim. Its small stings, come in a raw on face, neck hands and arms.
Topic treatment with cortisone cream is recommended.
FLEAS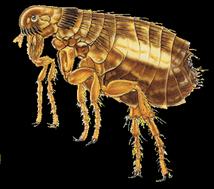 The kind of flea that man comes in contact with is the cat flea (Ctenocephalides felis) that lives in cats and dogs. Less frequent is the man flea (Pulex irritans) and the poultry flea (Echidenofaga gallinacea). They don't have wings: instead they have  strong jumping legs. They  are attracted to warm bloodded animals (including man) who can become their mean of transportation till they reach a specific host where they will mate. They move quickly and are often difficult to catch.

In order to better understand their infestation capacity, it is necessary to know their life cycle. Once a flea acquires a host, generally cats and dogs, it initiates feeding with its blood. After its first blood meal it mates and starts to lay eggs (up to 46 per day), till they die (they generally live two weeks).  Eggs fall from the haircoat of the host in the surroinding environment (they prefer warm and humid areas) where they develop. The place may be your house or garden, causing a huge unfestation, you may not be aware of.  The adult fleas on your pet only represent 5% of the total amount; 95% is represented by eggs in the environment.
Fleas may cause:
Skin irritation on the affected area;

Cause infectuous deseases
They can carry  bubonic plague and murine typhoid, transmitted by the rat flea (Xenopsylla cheposis).

The most affected areas are those non covered by clothing: you may observe small erythematous papula lesions in a row, as a trace of the flea walk on your skin.
Fleas control guide.
Frequent use of vacuum cleaner on carpets, covers, sofas, chairs, beds, cuscions, etc. (Dispose the bag immediately after cleaning). You may also use steam cleaners.

Washing floors and pet's beds, not forgetting the areas beneath shrubbery or other pet loafing areas.
You may find fleas also in mammals other than cats and dogs, bird nests, hen-pens, uninhabited houses, cracks in old buildings, barns,  trunks of trees and sheds.
CATERPILLARS
Caterpillars that mey cause problems to the man are larval form of nocturnal butterfly.
They crawl at night in single file, head to tail in large processions to feed on foliage in the crowns of trees, later to return in the same
The contact with the caterpillar, in particular with its urticans hair (they may also be transported by the wind) may cause dermatitis (erucism or caterpillar dermatitis) with red and itchy papules. More serious consequences if incontact with eyes, nasal mucosae, mouth or respiratory and digestive tracts.
In the case of contamination:
take off cloting

take a shower

wash clothes at 60°C (140°F)
Ice cubes may be applied to the affected area. However, steroid creams (consult your phisycian) may be used for a more effective treatment.