Versione Italiana
(congenital onychodyslasia of index finger -COIF)
Luciano Schiazza M.D.
Dermatologist
c/o InMedica - Centro Medico Polispecialistico
Largo XII Ottobre 62
cell 335.655.97.70 - office 010 5701818
www.lucianoschiazza.it
Iso-Kikuchi is a rare hand abnormality: the nail on the index finger is small, absent or duplicated.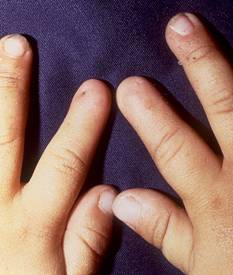 Roentgenograms of the index finger can show hypoplasia, narrowing at the distal third of the distal phalanx or bifurcation of the distal phalanx.
The etiology of this condition is unknown, but it's possible that the cause is an ischemia of the finger at a certain period of embryonic life.