Versione Italiana
Luciano Schiazza M.D.
Dermatologist
c/o InMedica - Centro Medico Polispecialistico
Largo XII Ottobre 62
cell 335.655.97.70 - office 010 5701818
www.lucianoschiazza.it
The occurrence of melanoma is dramatically increasing. American statistics announce that the risk factor of 1 on 1500 in people born in 1930, increased up to 1 on 84 in the recent years.
Also mortality has dramatically increased to double in the last 35 years.
It is a very important public health problem in terms of morbidity and mortality.
The Australian region of Queensland has registered the highest number of melanoma cases. The Local Health Authority has faced the problem with a large prevention campaign that has in a few years reversed the negative trend, reducing death occurrence.
New therapies haven't fully proven to be effective and vaccines are still far from application. So prevention and the help of a dermatologist have a fundamental role in fighting this kind of tumor.
REMEMBER THAT
MELANOMA IS A TUMOR EASY TO SPOT
EVERYBODY CAN SEE IT
JUST A FEW PEOPLE KNOW IT
IT IS THEREFORE IMPORTANT TO LEARN HOW TO RECOGNIZE IT
SIGNALS OF DANGER
If a nevus (mole), or another pigmented area of the skin, either existing, or new
Changes
in dimension: especially with sudden and continuous enlargements.

in color: taking different shades of brown, dark brown, black, mixed red, white and blue, or transferring the color to the surrounding skin area.

in shape: with the development of an irregular, uneven edge, previously even.

in elevation: especially sudden elevation of a previously flat mole.

in surface: change in the surface texture of a mole, desquamation, erosions, crusts, ulcerations or bleeding.

in the surrounding area of the skin: if it becomes red, edematous or it develops colored spots, close, but not linked to the pigmented lesion.

in sensibility: itch, excessive sensitivity or pain.

in consistence: especially softening or hardening
ATTENTION!
IT COULD BE A MALIGNANT MELANOMA
WHO IS AT RISK?
Generally we all are at risk of developing a melanoma and the risk increases with age.
There are however specific conditions that identify those who are more prone to develop this kind of tumor.
People at major risk are those who have:
Family history of malignant melanoma.

Had previously been affected by malignant melanoma.

Numerous moles (more than 50).

Dysplastic moles (moles with a diameter bigger than 6 mm, irregular in shape and color).

Light color skin, hair and freckles.

Easy to get sun burned and difficulty to get tanned

Had painful sunburns with blisters, especially during childhood.

Works indoor and practice sports outdoor.

Lived for a long time in geographic areas where the sun is intense for prolonged time
AUTOEXAMINATION
After taking a bath or shower, stand in front of a mirror in a well lighted room. Better use a hand mirror to observe areas difficult to see.
Start from face and scalp and go down towards head, neck, shoulders, back, chest and so on. Check front and back of arms and legs. Do not forget groin, palms, toes'nails and the spaces between toes.
Do not forget areas difficult to auto-exam, such as scalp and nape.
Remember the location of the moles and its aspect.
Performing a regular check it will be easier to recognize them.
Check any modification, especially if a new mole appears or there is a variation in the edges, in shape, in dimension, in color (especially a new black area), if new moles appear next to old ones.
I recommend to take notes on their appearance.
In the following pages there are two images that represent the human body (front and back): here you can indicate the position of the observed mole, date of auto-examination and eventual notes on the lesion.
Should you spot something different than usual you should seek the dermatologist advice.
Early detection gives a better chance of recovery.
REMEMBER
The auto-examination takes 10 max minutes.
It has to be performed regularly: 4 times/year, unless indicated by the dermatologist.
The purpose of auto-examination is not the self diagnosis, but to remind us to visit a specialist if there is any recent change.
To perform a correct auto-examination you need:
lots of light,

a full length mirror,

a hand mirror,

a hair dryer,

two chairs or stools,

A pencil
Totally undressed,
get in front of the mirror,
carefully examine:
Face and ears.

The scalp, using a hair dryer. Better to seek the help of family or a friend.

The palm and top of hands, nails and forearms, front and back.

Elbows, arms and armpits.

Neck, chest and abdomen. Women should pay attention to the area under the breasts.

Nape, shoulders and back. To better observe face the full length mirror with your back and with the hand mirror examine the different areas.

Gluteus and the back of the thighs

Sitting, put one leg on the other chair or stool, observe the front of thighs and legs, top and plant of the feet including toe nails, the spaces between toes and the genital area, helping yourself with an hand mirror.
How to use the images
At the first self-examination mark with the tip of a pencil the presence of the mole or lesion that you want to monitor.
From this point trace a line ending it beyond the figure and indicate date, dimensions and color.
In the following self-examinations, near the previous information you will write the date and variations, if any.
Do not forget to mark new moles or lesions unnoticed in previous self-examination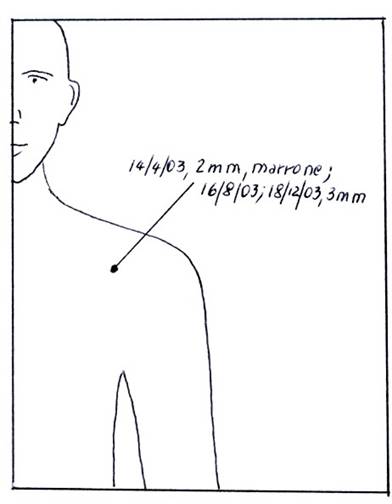 THE ABCDE RULE
The alphabet that may save a life.
It s part of the self-examination and memorizes simple rules, easy to apply.
A as ASIMMETRY (irregular shape)
In the suspect lesions one half does not look like the other half.. B as BORDERS (irregular borders) The suspect lesions have ragged, notched, blurred edges.
C as COLOR (not uniform pigmentation)
The suspect lesions don't have a uniform color, you can see lighter and darker areas: shades of tan and brown, black, sometimes red, white or blue.
D as DIAMETER (more than 6 mm)
These are reference dimensions. You always have to suspect a pigmented lesion larger than 6 mm (the size of a pencil eraser), especially if growing progressively.
E as EVOLVING or ELEVATION (any change or vertical growth of a previously flat lesion)
Beware of a lesion changing shape, color, elevation in a few months or new symptons such as bleeding, itching or crusting.
If a mole presents one, or more of the above characteristics
immediately consult your dermatologist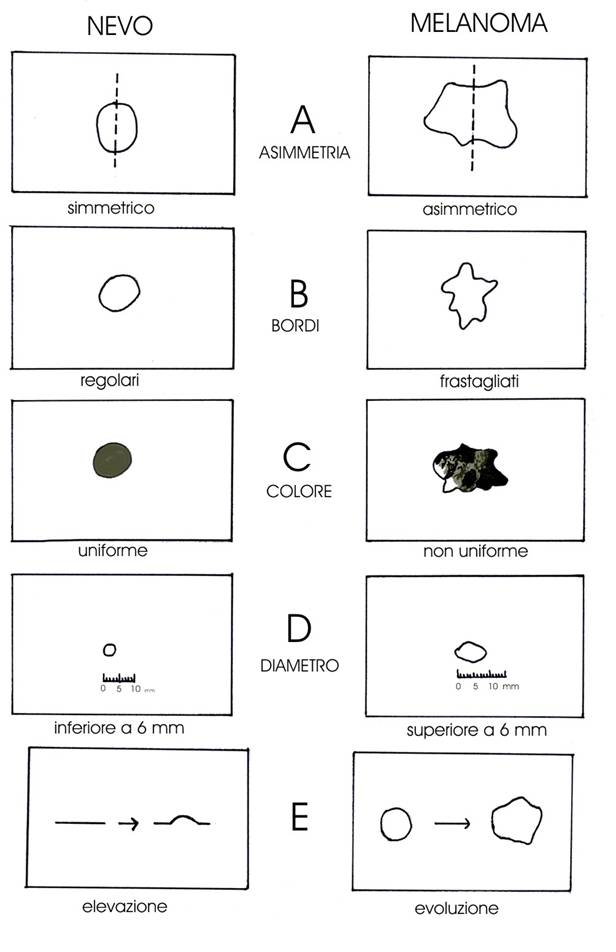 SUN AND MELANOMA
Excessive exposure to the ultraviolet radiations is one of the major risk factor in the development of a malignant melanoma.
Excessive exposure to the sun, especially when it is frequent and intense, as at the seaside or with tanning devices.
Sun exposure during the first years of life may damage the skin. It is recommended to follow the Sin Cancer Foundation suggestions.
The tanned face of a child gives the image of good health and it is difficult to imagine that on such a wonderful velvety skin might in the future appear a life threatening dark spot.
It has to be noticed that tanning is a natural defense of the skin.
This is what sun tan means.
And the damage starts from infancy and accumulates through adulthood.
It is parent's duty to avoid any dangerous occurrence limiting the sun exposure time of their children, especially in the hottest hours of the day, remembering to always apply a suitable sun screen.
SUGGESTION OF THE SKIN CANCER FOUNDATION
Avoid sun exposure under six months of age.
During the first year of age, seek shade for them as much as possible. A bad sunburn could be very serious.

Check the time. Sun Rays are more intense between 10 am and 3 pm. If the child has fair skin, red or blond hair and fair eyes, plan outdoor activities (tennis lessons, playground, etc) early in the morning, or late in the afternoon.

Cover a high risk child with a hat, long sleeve shirt and long trousers. Chose thicker fabric. For infants use prams with a parasol.

Use a sunscreen because they contain substances able to filter the sun rays. Sun screen lotions have an important role in the protection program. The higher the protection factor (SPF) the highest the protection. The Skin Cancer Foundation recommends an SPF of 15 or more. For children under two it is recommended to consult a doctor. Remember that sun screen lotions do not give absolute protection.

Re-apply sun screen lotions every two hours, or more, after swimming and perspiring.

Beware of reflected sunlight. Many surfaces such as sand, cement, snow, may reflect dangerous radiations. Sitting in the shade, or under a parasol doesn't guarantee protection. Beware of cloudy days, when up to 80% of sun radiations reach the earth.

Beware of altitudes and latitudes. Radiation increases of 4-5%. every 300 meters over the sea level. The closer to the Equator, the strongest the sunrays.

Avoid sun exposure while taking photosensitive drugs. Photosensitivity - adverse reaction to the sun light characterized by exanthema, rushes and/or swelling - might be the collateral effect ofsome drugs. Consult your physician prior to expose to the sun a child while he or she is under treatment.

Check your children's skin regularly. Check any new excrescence, itchy spot, change in moles, or new cutaneous spots. Skin cancer is extremely rare in children and not common in teenagers. However, skin care must be taken since infancy.

Be an example to your children. The above mentioned rules must be followed at any age. Following these simple rules will teach your children how to take care of his/her skin.
Be reminded that
It is true that the sun triggers vitamin D synthesis against rachitism, but a few minutes per day are sufficient to trigger an adequate quantity.

Avoid to use perfumed products on the skin: they attract insects and some may provoke a photomediated dermatitis.

One day prior to using a new sunscreen lotion on your child apply a small quantity in the internal part of the wrist, so to avoid dermatitis in case of irritation.

Sun screen lotion has to be applied thoroughly, not forgetting ears, nose and lips.

To protect children's eyes use full rimmed hats.

Sunscreen lotions are not meant to prolong sun exposure time, but to protect the skin within reasonable exposure time.
Let's proctect children from sun. It will be the best investment the parents can do for the future of their sons